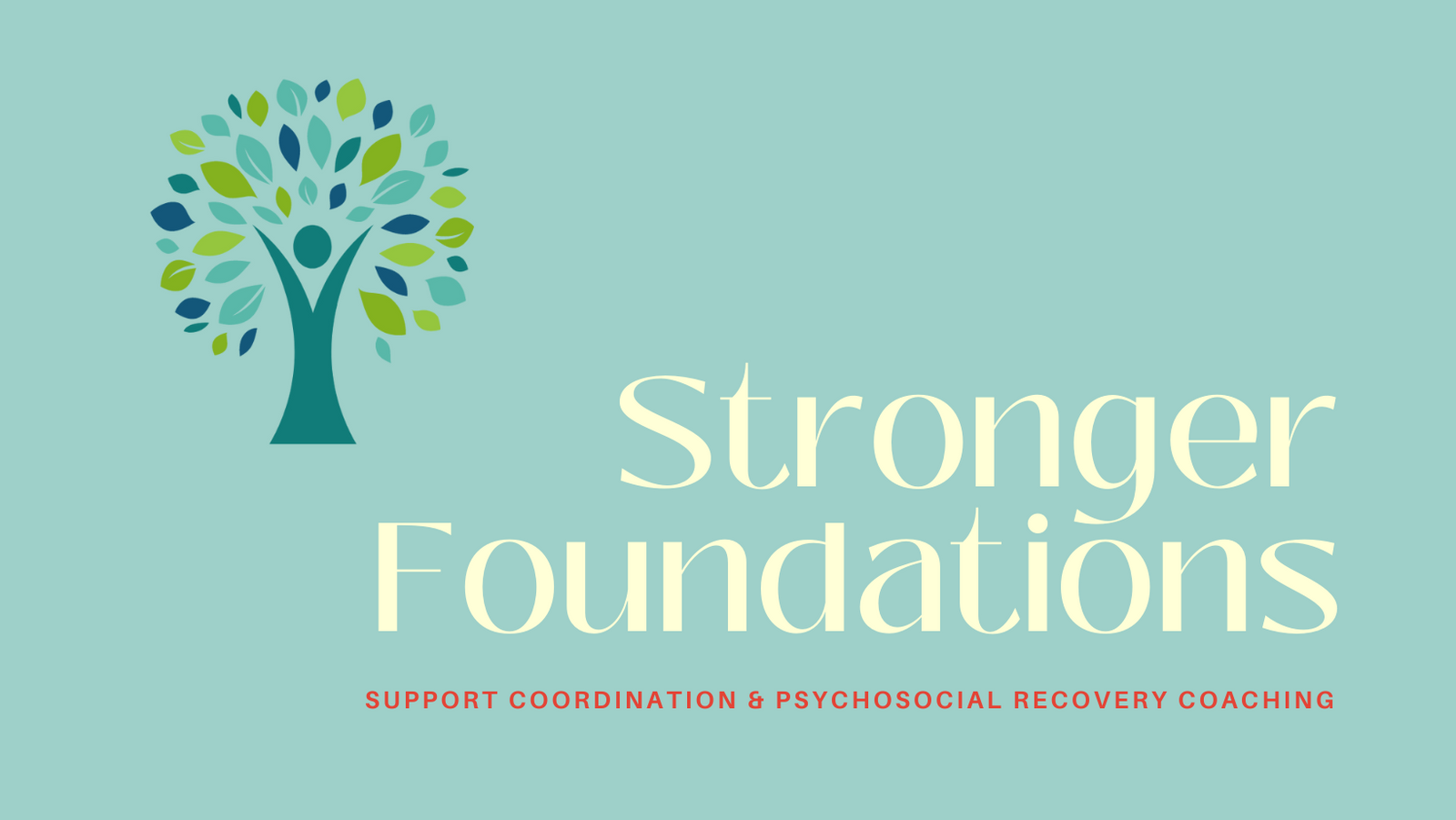 Welcome to Stronger Foundations Support Coordination
At Stronger Foundations Support Coordination (SFSC) we believe that everyone can pursue a meaningful life based on their own strengths, values and goals, and we are delighted you have chosen us to support you in your recovery.
SFSC specialise in supporting people with a range of mental health needs. What sets us apart is our experience as a specialist mental health provider that is passionate about supporting you to accomplish your personal recovery goals.
We understand that recovery is individual and unique to YOU. Recovery means living with our without symptoms and describes the journey to improved wellbeing & health.
"A Support Coordinator works with individuals to formalise a support plan and help them to engage different supports."
The aim of a Coordinator of Supports is to build capacity in different individuals, such as those with a disability or people with mental health issues.
I will work with you to achieve your goals, in line with your NDIS plan. I use a coaching approach to assist you in capacity building and will collaborate with all your supports to promote increased mental health & wellbeing.
We will work closely with you and your support network to support you to achieve your NDIS goals.
identify the services and service providers that best meet your individual needs and allow you to achieve value for money and exercise your choice and control

connect you with a strong support team and coordinate service providers and supports (including mainstream, informal, community and funded supports); or build your capacity to coordinate your own supports

set up Service Agreements with providers

source suitable accommodation and respite options

coordinate assessments, reports, and health and medical specialists

help you explore advocacy services, if this is something you require

monitor  your progress towards your NDIS goals and the performance of the support services you use

request a plan review if your plan does not meet your needs, and

review your goals prior to your NDIS plan review.
Stronger Foundations Support Coordination strives to create supports and an environment that provides full citizenship for people living with a mental illness and to improve mental health in our communities. Stronger Foundations was set up to provide supports and to offer a bespoke service focussing on mental wellness.
We provide Support Coordination to NDIS customers and assist them in achieving their goals as set out in their NDIS plans. This is conditional on the continuation of viable funding under the NDIS, and we will work within the funding constraints of your NDIS plan. We mainly work with plan or self-managed participants, but, if you are agency managed we can request that to be changed.
Psychosocial Recovery Coaching
"A Psychosocial Recovery Coach is a Specialist Mental Health Support that some NDIS participants may have access to under their plans. They bring specialist skills and knowledge to help people with disabilities arising from mental health conditions to live a full and contributing life."
Recovery coaches provide support to people with psychosocial disability to live a full and contributing life. You will be assisted to take more control of your live and to better manage complex challenges of day to day living. Through strong and respectful relationships and skilled coaching, you will be supported to build capacity, including strengths and resilience. Recovery coaches work collaboratively with people, their families, carers and supports to design, plan, implement and adjust a recovery plan. I will collaborate with the broader service system and will assist with the coordination of NDIS and other supports.
Roles and responsibilities of recovery coaches include:
Developing a recovery-enabling relationship

Supporting participants' engagement with the NDIS

Coaching to increase recovery skills and personal capacity, including motivation, strengths, resilience and decision-making

Supporting participants with their recovery planning

Collaborating with the broader system of supports.
Recovery coaching creates a clear plan of action while using your current strengths to reach YOUR desired goals. Besides helping you access and maintain recovery, coaches access systems and resources needed to support the recovery such as benefits and health care. Recovery coaching also helps you to return to employment, find stable housing and transition. YOU will self direct your own recovery while the coach provides expertise and encouragement in supporting the necessary change and attaining the goals important to the individual.
Health & Wellbeing
Utilising my skills as a Health Coach & Wellbeing Consultant, we can work together on building good habits and building your own Wellbeing Plan. I specialise in mental wellness, including self-care, journaling and nutrition.
You can see all my other offerings on the other pages here in my website. My NDIS participants will have access to some of these at no extra cost.
Non-registered NDIS Provider
As a Sole Trader/Independent Provider, we have a small case load and do not work to unachievable KPI's.
Psychosocial Recovery and Support Coordination will be performed either face-two-face or through technology like Zoom/Microsoft Teams. It has proved to work well during Covid lockdowns, so I can service remote customers also.
I work with customers who are Plan or Self-Managed, but, it only takes a quick call to the NDIS to have your funding changed, to be able to book my services.
I will ask you to sign a Service Agreement and a "Consent to Share" Document, so that I can talk to all your supports on your behalf.
As required, I will keep accurate records and follow the NDIS Code of Conduct Quality Framework promoting a safe and ethical delivery service.
https://www.ndiscommission.gov.au/providers/ndis-code-conduct